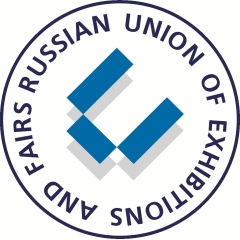 The RUEF sign is evidence of the special significance of the exhibition event for the Russian economy.
RUEF sign for exhibitors and visitors
– the guarantor of the key components of the high quality of the exhibition event:
level of preparation and holding of the exhibition
professionalism and responsibility of the exhibition organizer
reliability of exhibition indicators confirmed by audit
a wide range and level of services provided by the organizer
the best marketing opportunities of the event
high performance participation
RUEF sign for organizers
serves as an image element of the exhibition, highlighting the event among other exhibition projects
helps to increase customer loyalty to the exhibition - increase the number of exhibitors and visitors
helps to increase the confidence of customers in the organizer, to increase his authority as a reliable professional
contributes to raising the status of the event through its patronage, support by government structures, the Chamber of Commerce and Industry, industry associations
promotes exhibition brand
Requirements for exhibitions with RUEF sign
The sign of the Russian Union of Exhibitions and Fairs is assigned to an exhibition/fair with the "International" status if it has passed at least two times and if each of the two meets the following requirements:
own original name of the exhibition / fair
net exhibition space - not less than 1000 m2
direct foreign participants - at least 10% (with the exhibition space rented by them - at least 100 m2)
total number of visitors - not less than 5000 people
compliance of exhibits with established topics, compliance with the deadlines and frequency of the exhibition / fair
compliance of exhibition equipment with international requirements
provision of permanent services (commercial, marketing, service, advertising, etc.)
If all of the above requirements are met, except for the requirement for the number of foreign participants, the Sign of the Russian Union of Exhibitions and Fairs is assigned to an exhibition / fair without the status of "International".
For exhibitions nominated for the assignment of the RUEF Sign, and for exhibitions marked with the RUEF Sign, an audit of the main indicators is mandatory.